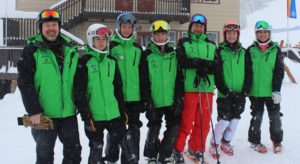 JUNIOR RACING – AGES 12-16 years of age (U12-U16)
This junior racing series is the next level up from the Introduction to racing. This is The  offered to skiers age 10 to 15 (U10s – U16s). This group of young athletes will focuses on improving all mountain skiing, race technique, race tactics and establishing strong racing fundamentals in and out of the gates. This  team will trains on Saturdays and Sundays and the occasionally Friday's or Monday's depends on the holiday breaks with schools. This program is for motivated athletes who wish to prepare for a more competitive environment.
Program dates: Early December through March, with a 5 day holiday camp.
Training days: Weekends 930-330pm (Break for lunch)
Races held throughout the Emerald Empire Youth Race Series, Evergree Cup and Northwest Cup.  Races are optional but are highly encouraged to attend at this level of competition